Good supplementation is key to good health throughout winter, so using the following gives you the best chance not only to avoid colds and flu, but also to be healthier in general…
Vitamin D
Blood levels of Vitamin D do not plateau until after 3-4 months of supplementation, so short term supplementation may not correct low levels sufficiently. Long term supplementation is required at high intake and safety data suggests this can be at levels of at least 5000iu per day in winter.
Omega-3
These help support cognitive function, the nervous system and hormonal integrity as well as helping settle inflammatory processes in the body.
B Vitamins
These are required for the release of energy from food, for the healthy function of the nervous system and for the production of hormones.
Probiotics
A good probiotic helps to encourage a healthy gut flora to support the elimination and nutrient absorption process. New research also suggests that the gut is responsible for up to 90% of the body's serotonin, so good gut health will play a central role in increasing your happy hormone levels and decreasing the likelihood of feeling SAD.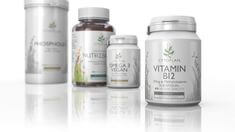 We stock a unique range of supplements and wholefood vitamins and minerals from Cytoplan and The Naked Pharmacy so ask for more details.