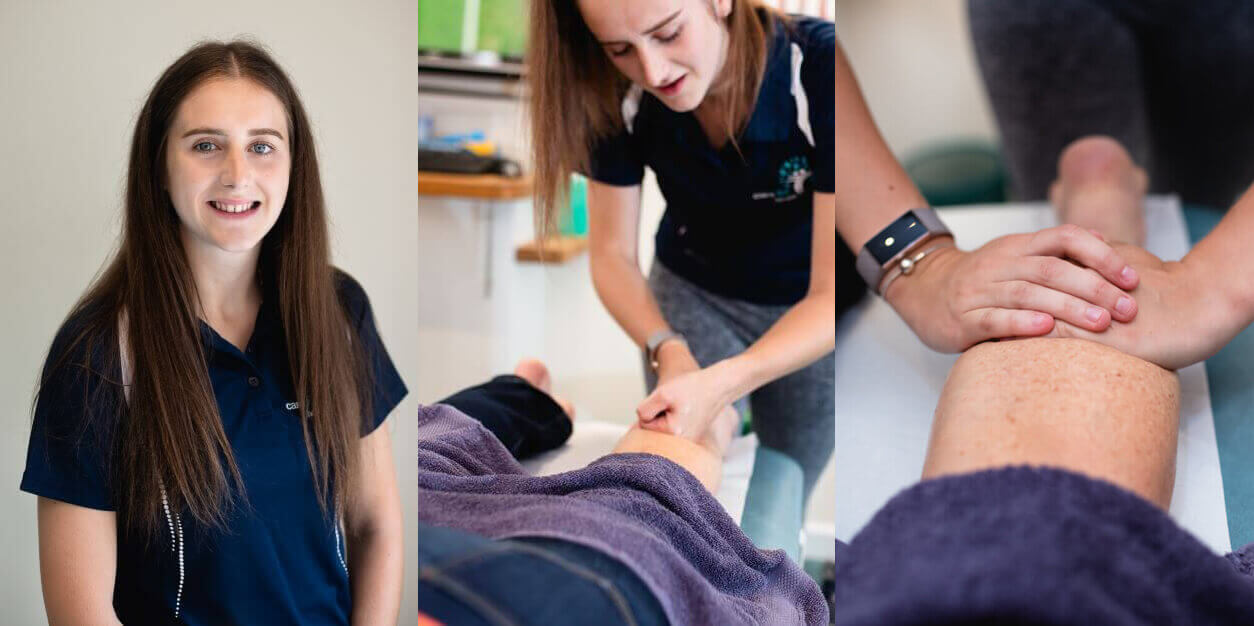 Hi, my name is Abi and as some of you may already know, I am a Sports Therapist who has recently joined the team at Care for Health alongside Luke (Chiropractor) and Emma (CA). I have recently graduated from the University of Chichester where I studied my undergraduate Sports Therapy degree. Growing up I have always been involved in sports such as football, dance and more recently rugby. From a young age my favourite hobby was dance and I used to participate in many genres of dance, predominately ballet but also some modern dance and contemporary. When I got to the age of around 11 or 12, I showed a keen interest in football which I then pursued by joining the local girls team at under 12s and continued to play for right up to the women's team. When beginning to study at the University of Chichester I joined the women's football team, however, towards the end of my first year there I worked up the courage to try a new sport and tried rugby for the first time. It took me a few sessions to understand the game, but I soon began to love it. I still play now for a local team, Pulborough Women RFC. Most recently I played for Pulborough against Hove. It was great to play this game as it was the first match I had played in many months due to COVID and other commitments. I am a back in rugby, so I usually play wing or outside centre. As well as playing rugby I thoroughly enjoy watching it too and in December I am planning to go to watch the Big Game 13 with my dad and brother which I am very much looking forward to.
Alongside my love of sport and playing rugby when I can, I also am the Sports Therapist for Chichester and Selsey Ladies FC. They have a great team set up including performance analysts, photographer and goalkeeper coaches who work alongside myself, coaches and the manager, to run an excellent team. They play in the FA women's national league meaning we can travel quite a distance for away games. We usually all arrive together on a coach making away days a fun day out as a team. When working as the Sports Therapist for Chichester and Selsey I have the responsibility of looking after the players within the team throughout the day. This involves providing pre-game treatment (including massage and taping techniques), immediate first aid treatment during the game as well as assessments of injuries after the game and providing a plan of action for their injury and any further treatment if it is required.
The most common types of injuries I have come across whilst being at Chichester and Selsey tend to be things such as lateral ankle sprains, injuries to the quadriceps and hamstrings as well as concussion. Although there haven't been too many cases of concussion whilst I have been at Chichester and Selsey, it is important that it is taken very seriously and the injured players are properly assessed and the correct procedures are carried out. Even if there is a slight concern that a player may be concussed it is important to take them off the pitch to be fully assessed rather than letting them continue to play and risk further injury.
I decided to go down the path of Sports Therapy because as I previously mentioned I have always been interested in Sports. Throughout my time playing various sports for different teams, I have suffered from and witnessed plenty of injuries take place. Experiencing these injuries helped me to realise that I wanted to be able to help people suffering from injuries, understand how they got injured and how to recover from them. Suffering from injuries myself really helped me to understand the importance of rehabilitation and recovery, because if you don't do the rehab and let your body heal, you are much more likely to re-injure yourself.
Outside of work and sport when I get the opportunity to, I love travelling up to London for the day with friends or family and enjoy doing things such as going to watch musicals, some of my favourites being Wicked, Mamma Mia and Matilda. I'm currently living back with my mum, dad, brother and twin sisters. We are all very sporty and busy doing various different activities, so it is never quiet at home and there is always someone who's got a football game or a dance lesson to go to!
So that's just a little bit about me, but I look forward to meeting a lot more of you soon and getting to know you too.
Kind regards
Abi