You may or may not have noticed our new treatment we have available in clinic with our Sports Therapists. Some of you may have even already received the new treatment. Shockwave therapy is used to stimulate the body's natural healing process and promote tissue healing. It is a non-invasive technique used for a variety of injuries such as Achilles Tendinopathy and Plantar Fasciitis. Keep reading to find out more about how our new treatment works and the benefits it brings.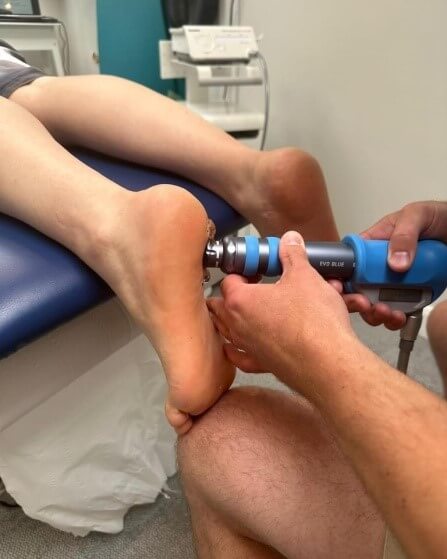 What is Radial Shockwave therapy?
Shockwave therapy involves the use of high energy acoustic waves which are known as shockwaves to the injured area. The shockwaves are audible, low energy sound waves which introduces the inflammatory response in the tissues affected. This then stimulates the healing process as well as decreasing the pain modulating neurotransmitters.
Ultrasound gel is applied to the injured area and the shockwaves are delivered through a specialised handheld device placed on the area. With the machine set to the most appropriate frequency, impulse and air pressure for each individual patient and injury, the impulses are transmitted through the ultrasound gel and into the tissue.
What are the benefits of Radial Shockwave Therapy?
Pain management – shockwave has been proven to be effective in managing both acute and chronic injuries.
Treatment is non-invasive – it is non-surgical and doesn't require any anaesthesia. This minimizes the risks and reduces recovery time; it is sometimes a good alternative to surgical treatments.
Tissue regeneration – the shockwave treatment triggers the body's natural healing process and promotes the regeneration of damaged tissues.
Reducing need for medication – addressing the cause of the problem and promoting healing may also help to reduce the need for pain relieving medications.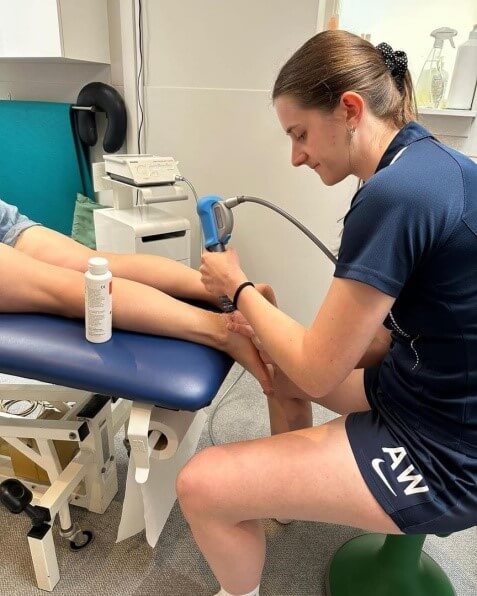 How many sessions do I need?
Generally patients will need about 5 sessions of shockwave treatment with the sessions occurring weekly. However, depending on the severity or chronicity of the injury, some people may benefit from more treatments.
What to do after shockwave treatment?
It is important for the first 24-48 hours post shockwave treatment not to apply ice to the affected area or take any anti-inflammatories as this will be counteracting what the shockwave is trying to achieve. It is also important not to perform any intense exercise for this time period.
Examples of injuries Radial Shockwave Therapy can help with:
Tennis Elbow
Golfers Elbow
Achilles Tendonitis
Plantar Fasciitis
Shin Splints (Medial Tibial Stress Syndrome)
Hamstring Tendinopathy
Calcific Tendonitis
Precautions of Radial Shockwave Therapy
When receiving the treatment you may experience some discomfort which may continue for a short period after the treatment. This is completely normal and the affects are usually temporary.
Shockwave isn't appropriate for all individuals due to some complications with medication or conditions, so make sure to disclose full medical history before beginning treatment so we can make sure the treatment is right for you.
So far we have been seeing some great results with our patients receiving Radial Shockwave Treatment. If you are suffering with any of the injuries mentioned or you think Shockwave would be beneficial to you give us a call to get booked in.
Abi Wheatley, Sports Therapist